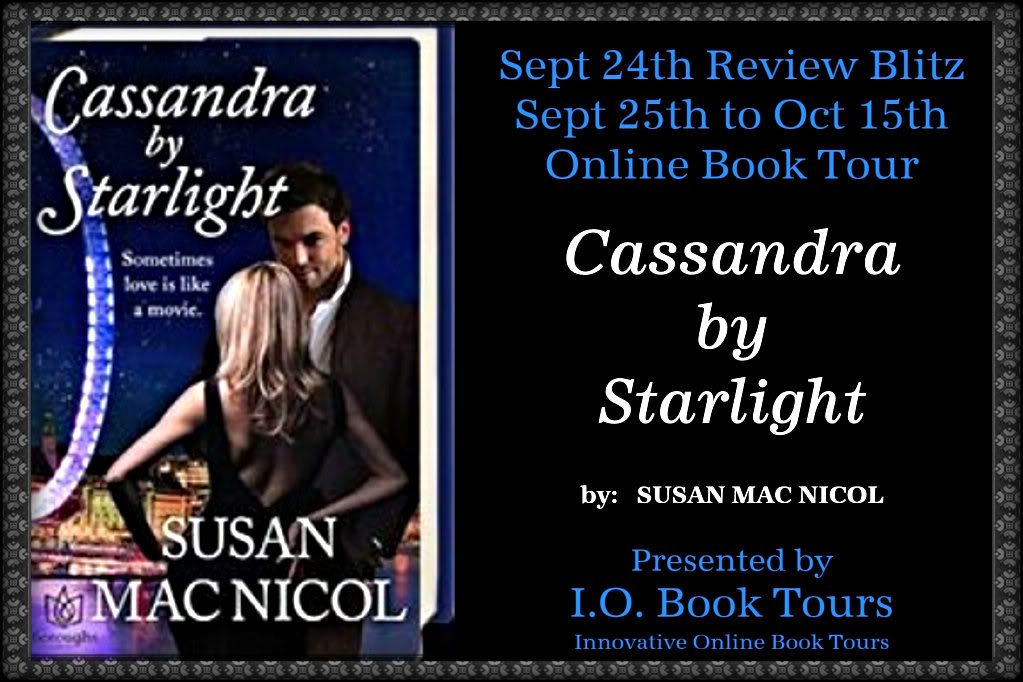 I liked how it went in first person with both her and Bennett, and well with Ian at first too. It showed the contrast between the characters, since Bennett is so serious with his family, work and friends. But Cassandra was lonely but pretty much hilarious on her take of things. Even the traffic jam, she'd made a light spin on it and liked it a lot.
The writing itself was clever, simple and quick to read. It was also enjoyable and gripping so you'd find yourself hooked from the very start. Great read!
Rating: 3.5/5




Romance, mystery, intrigue, and a well written story in Cassandra By Starlight keeps readers going with plenty to make the eclectic lover satisfied. The story is a mixture of romance, plot twists that have suspense and mystery elements, and plenty of tension

.



The plot is quite interesting with quite a few sub-plots and few of them are quite mysterious. The death of Bennet's brother and the identity of his stalker are what keep the reader wondering about 'what really happened'. The book also deals with a life of an actor, a serious illness and the different facets of relationships. My favourite part of the book was really the relationships portrayed. Cassie's relationship with both Bennet and Ian, Bennet's relationship with his colleagues/friends and his family – they are all very different from each other. It is these differences that actually complement each other and bring a balance and charm into the book.

After just reading the first chapter, I knew that I would stay up well into the read to finish this book. And yes, I did just that. The first chapter reads like any other start to a romance book and then BAM, you are head first in a plot that you have no idea where its gonna lead you and where its going to end.
Harlie's Book Blog

Cassandra by Starlight is a wonderful blend of contemporary romance, romantic suspense and mystery thriller, which grabbed my attention from the first page and didn't let go till I read the last page. With compelling characters, scintillating dialogue and a fairly fast pace, Susan Mac Nicol crafted a story quite unlike anything I've read before. Set in contemporary London, Ms. Mac Nicol provides a good backdrop for her story with a lead character who's an up and coming actor in both television and theater.
Queen of all She Reads

"Cassandra by Starlight" brings mystery, suspense, thrilling adventure, and fascinating cultural background. So this novel is yes, a sensual, passionate, love story-but multi-layered. Truly, I couldn't put it down. Although I do rate this novel 18+ for sensuality (tastefully sensual) and for some violence and suggestions/discussions of violence, I highly recommend it for almost all readers. It's very enjoyable and I believe will find a wide and happy audience of fans.
Mallory Heart Reviews

This was a very interesting book. I enjoyed each challenge that characters faced. I look forward to reading additional books by this author.
Thanks for an interesting read Sue

Talk Supe First Chapter Excerpt

If you like stories about actors, this is one sure to please. You get the feel of the life behind the scenes on both screen and stage, Bennett is a complicated hero but his loyalty to Cassandra never withers. Will definitely seek out more books by Susan Mac Nicol after reading Cassandra by Starlight.
Musings From an addicted Reader

"Cassandra by Starlight" is a beautifully written romance novel that will keep you reading until the end. Between the twists, turns, ups and downs of the well written plot, Susan Mac Nicol keeps her characters realistic in her debut novel. I fell in love with this story and recommend it to all romance fans.
I give "Cassandra by Starlight" a 5 star rating.